Name:502B Salted duck egg separator

Product Code:502B

Capacity:30,000eggs/hour

Function:Water bath loading, ordering, egg breaking, egg yolk separating from egg white, egg yolk, egg white and eggshell collecting
Details


Features:
ZENYER 502B is made of 316 stainless steel, and meets all food processing safety requirements.

Is specially designed for salted duck eggs breaking & separating in a maximum capacity of 30,000

eggs/hour.

The 502B is equipped with water bath loading, automatically egg queuing, egg breaking & separating

system.

The 502B can be used offline, or it can be attached with ZENYER egg washer for better food hygiene

and safety before egg breaking & separating.

Is applicable to large scale duck egg processing factory to produce duck egg yolk, egg white and more.
Commodity

Salted duck egg separator

Product code

502B

Model

ZYD-MS6

Capacity

30,000 eggs/hour

Material

Stainless steel

Power

3KW

Voltage

380V,50HZ, three phases

Dimension (L*W*H)

9.86*5.55*1.88 M

Net weight

1000 KG

Gross weight

1500 KG

Function

Water bath loading, ordering, egg breaking,
egg yolk separating from egg white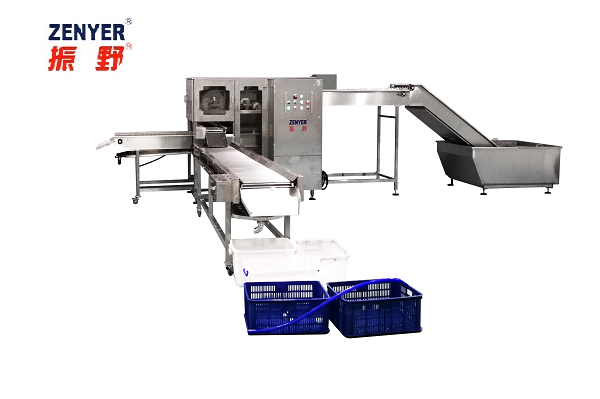 ZENYER 502B Salted duck egg separator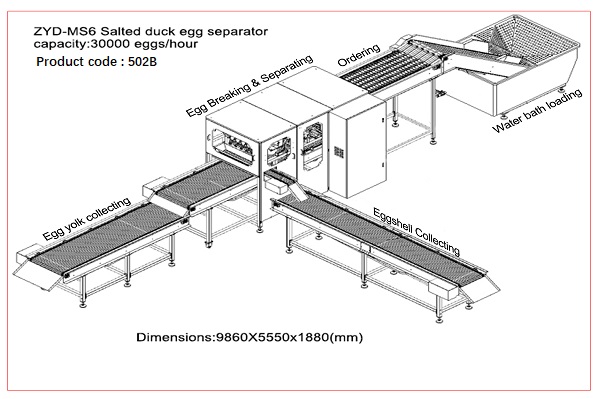 For ZENYER 502B Salted duck egg separator : Only USD98,077.00

(Pre-order)
502B Salted duck egg separator Brochure