Name:202B Egg washer

Product Code:202B

Capacity:10,000 eggs/hour

Function:Water bath loading, washing, drying, candling
Details
Features:
Made of strong stainless steel for great durability and hygiene.
Suitable for pre-washing before separating of chicken eggs, or cleaning and drying for duck eggs or preserved eggs.
Including water bath loading, washing, drying, candling, and optional manual collection conveyor with capacity of 10000 eggs/hour.
Pour the whole tray or box of eggs into a water bath, and the eggs will be transported into washing system that follows the conveyor. This loading method not only saves time but also minimizes egg cracks by using buoyancy. Plus, eggs are easier to wash as well after running through a water bath.
The eggs will be cleaned by brushes and warm water (customer provides water heater).
Water on eggs will be swept off by the drying brushes, and meanwhile the eggs themselves are dried by the drying fan system, the drying rate can reach up to 95% which depends on the environment humidity.
Can be connected with ZENYER 104B egg grader main machine to set up a duck egg processing line or with ZENYER 501B egg separator to set up a liquid egg processing line with capacity of 8000 eggs/hour.
Commodity

Egg washing machine

Product code

202B

Model

ZYX-YS1-3

Capacity

10,000 eggs/hour

Material

Stainless steel

Power

7.06KW

Voltage

220V, 50HZ, Single phase

Dimension (L*W*H)

7.3*1.7*1.1M

Net weight

550KG

Gross weight

1050KG

Function

Water bath loading,washing,drying,candling,
and optional manual packing lane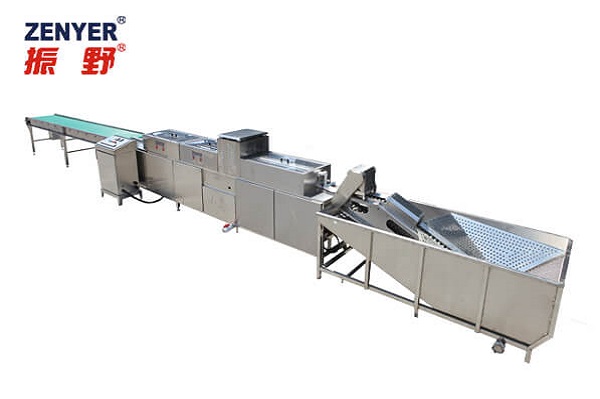 ZENYER 202B egg washer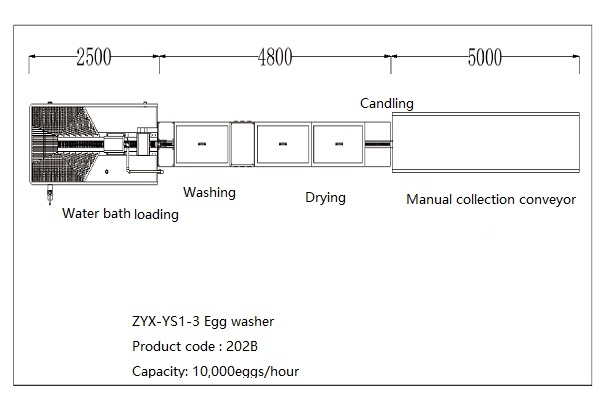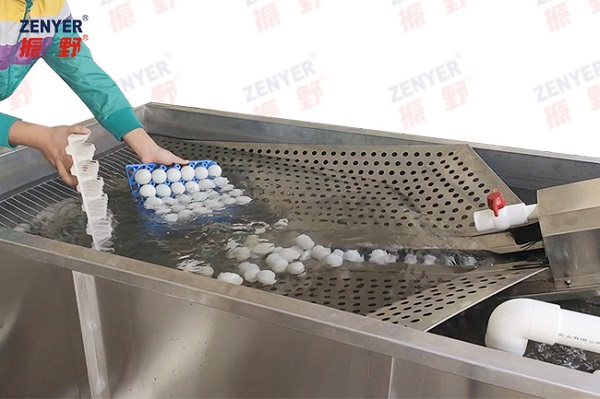 Water bath loading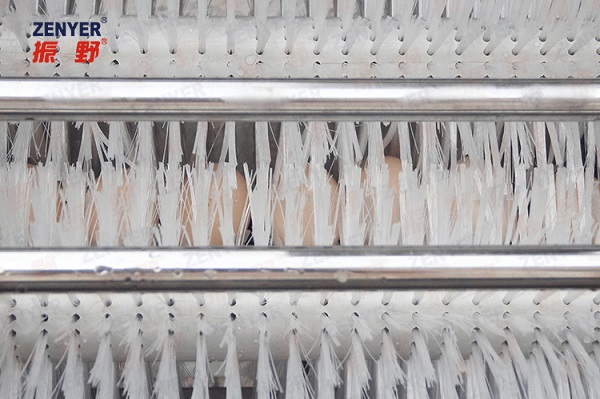 Egg washing with brushes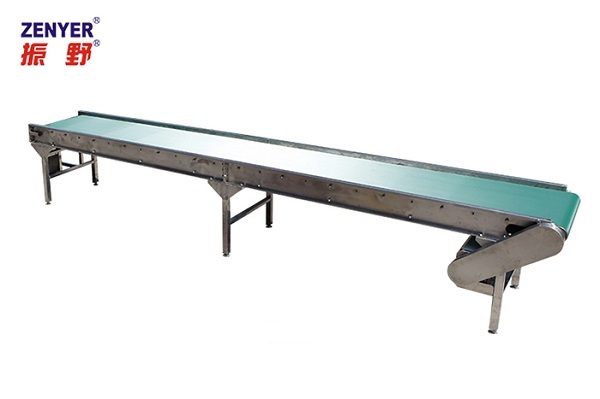 Manual collection conveyor (optional)


For ZENYER 202B egg washer without manual packing lane: Only USD21,978.00

Option:
The 608C manual packing lane : USD6,593.00

(Pre-order)